Please see our Event page for current schedule.
Upcoming events-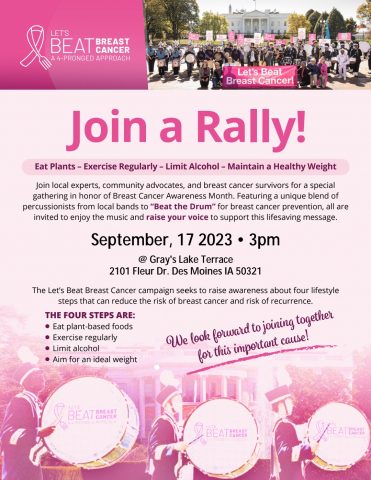 Class Dates:
Introduction to How Foods Fight Cancer
Sunday, October 1, 2023 5:30 PM to 7:30 PM
Fueling Up on Low-Fat, High-Fiber Foods
Sunday, October 8, 2023 5:30 PM to 7:30 PM
Cancer-Fighting Compounds and Healthy Weight Control
Sunday, October 22, 2023 5:30 PM to 7:30 PM
Foods and Breast Cancer Survival
Sunday, October 29, 2023 5:30 pm to 7:30 pm
Certain diet patterns seem to have a major effect in helping people diagnosed with cancer to live longer, healthier lives. The National Cancer Institute research shows that as much as 50 percent of cancer risk may be related to diet. In this class, you will learn about the right food choices that can help reduce the risk of developing cancer as well as overcome the disease after it has been diagnosed.
Des Moines SDA Church
2317 Watrous Ave Des Moines
Des Moines, IA 50321-2144
United States